Library Management System Source Code Download
Lets dive in ,
This project Online Library Management System has 2 kind of logins an Student & Admin(Librarian) . An student can see every one of the books or accessible books, sort the rundown of books look through a book utilizing any parameters. The Librarian furthermore can Issue a book, Return a book or Add another book to the list,here including of books is made simpler with the assistance of google book API. He can create logins for the students  and in addition can also issue library cards to them.Camera module is co-ordinated to catch student pic for the library card.
There is also a front end (HomePage) provided where every students (No Login) can see each book that are accessible in the library right now(Available/Not Available) and can choose to visit it or not.There is likewise a module where any signed in student can request for any books he or his class needs.There is additionally a sms and email module include so as the librarian can push notices to them. Page to manage fines is additionally given to the Librarian.This website is build  on a JavaScript framework  called AngularJS and actualizes the greater part of the key highlights alongside PHP WordPress Framework.
You can tweak it to your preferences.
Demo Link
Login Details
Login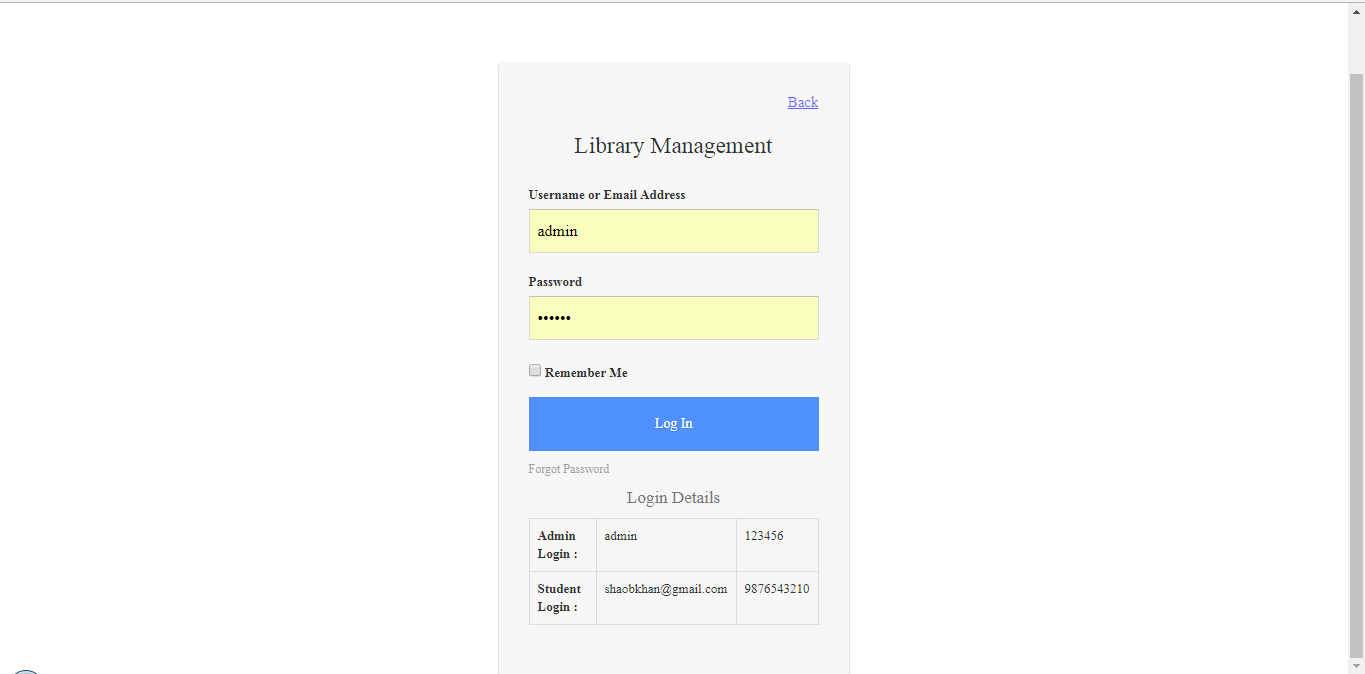 Dashboard
Other Settings
Add Books
Here just you have to input the ISBN nos rest is filled in automatically even the image.
View All Books
Deactivate Books (If Lost)
The numbers shown (it's the book id) needs to be written behind each books.Since its used to identify each books.No barcode feature is used since it can increase overall cost.
Manage Courses
Manage Years
Profile Updating
Add Students
Camera module integrated into it.Default password would be the phone number.
Manage Students
Print Library Card
Just a introvert person 😀
Issue Books
View All Issued Books
Change Password
Return Books
Sms Sending
View All Archive Books Issued Records
Request New Book (Student Panel)
He creates a new request for the book and provide details.Other student can like his request if certain nos of people like this request then librarian can may be accept the request.
View All Requested Books (Librarian Panel)
He can either approve or dissaprove the request
Institution Setups (Librarian Panel)
Front Page
These are all the list of books that are available in the library.If Any books goes out of stock then status (All Issued) will be shown to the students.He can also see a preview of these books via(Google Book Api)
Manage Fines
College project for cse student,mca students,bsc-it students,bca students,be students,computer students can modify and use this software.Blackbook for library managment system can be found on the above given website.online library management system